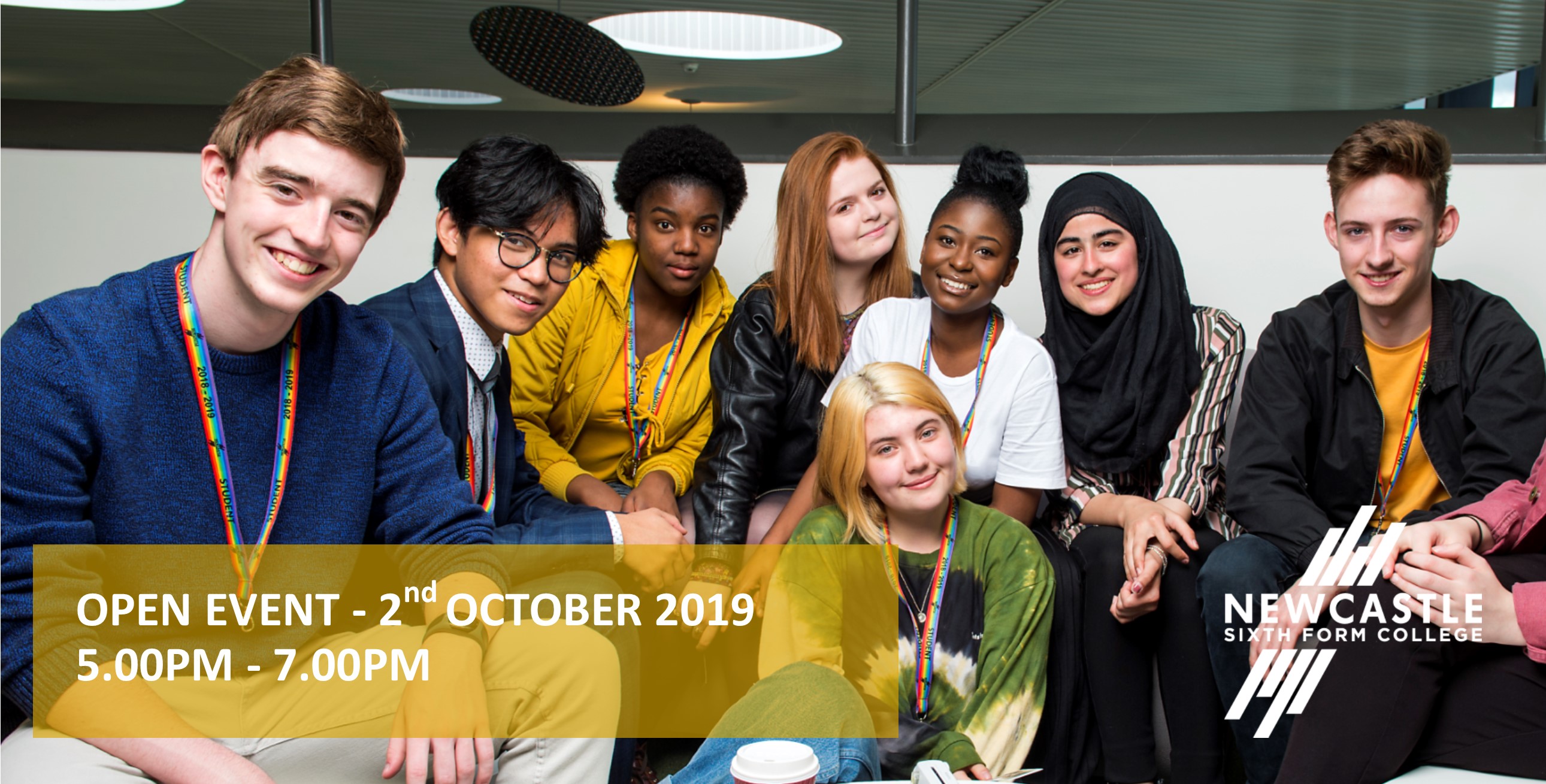 Visit us
• Discuss your Choices - Meet our teachers and find out more about the 20+ A Level subjects we offer.
• Personalised Tour - Take a guided tour with one of our Student Ambassadors and see just how much more you get from a sixth form college campus.
• Meet our Ambassadors - our Ambassadors are current students who are on hand to answer questions and describe their own experiences of the college to you.
• Student Support - Our Specialist Teams are available to answer questions on finance and bursary, Learning Support, Personal Development, Careers and UCAS advice and guidance.
• New Prospectus Launch - Be among the first to read our 2020 Prospectus and gain further insight into our Sixth Form options.
---
 Register Here
Please note only the student attending needs to register for a ticket.#
---
FAQs
What are my transport/parking options getting to the event?
There are two car parks available for visitors to use at the rear of the Newcastle Sixth Form College building, access to both is via George Street (indicated on map, available from our website). Parking is also available in Newcastle College main car park, access via Scotswood Road.
Newcastle Sixth Form College is a ten minute walk from Central Station.
---
Does Newcastle Sixth Form College offer vocational courses such as Health and Social, Beauty, Childcare or Sport?
No, these courses are offered by Newcastle College and details of their open events can be found on their website
Newcastle Sixth Form College only offers A Levels or GCSE re-sits to students aged 16 - 18.
---
Should I, as a parent also register for a ticket, as well as my son/daughter who is the student?
No, only the applicant needs to register. Family and friends are still welcome to come along but don't need a ticket.
---
I'm interested in studying A Levels part time, or in the evening. Do you offer this option?
No, we do not offer any part time courses or evening classes.
---
If you have any questions, please do not hesitate to contact us on (0191) 226 6231 or email enquiries@newcastlesixthformcollege.ac.uk.
Newcastle Sixth Form College
Westmorland Rd
Newcastle upon Tyne
,
Northumberland
NE4 7SA