In our second student survey this term we hoped to build on the many positive comments and feedback we received from our initial survey. We were delighted with the results, and with over 98% of our students saying the college is a safe place to learn, and 97% would recommend the college as a place to study.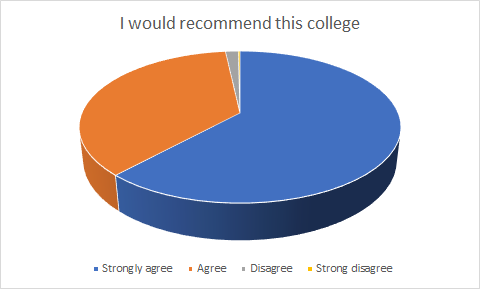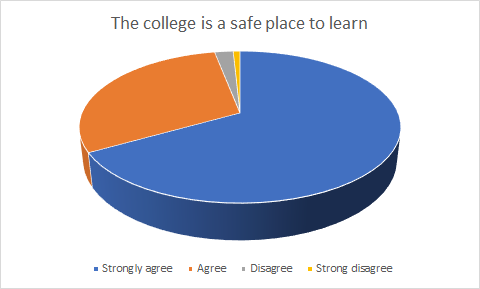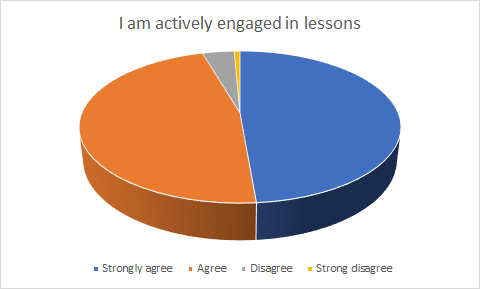 Across most areas student satisfaction increased. Students also commended the resources and support to learning. We still have room for improvement, but this survey suggests that the college is moving in the right direction when it comes to supporting and engaging our students.
 Below are some quotes from students:
'I am enjoying how challenging the course can be, as it pushes me to learn and develop new skills.' First Year Biology Student
 'Politics is the best time I've had in any sort of education. The experience is totally different from what I've done previously and I love it and can't wait for the next lesson' First Year Politics Student.
'I am enjoying this year a lot. Alan's teaching method gives us good amount of opportunities to work independently at our own pace but also do a lot of class (team) work, where we get work together and use what we know collectively to learn.' Second Year Computer Science Student
 'I am really enjoying this subject and building great friendships and even a great relationship with my teacher, easily my favourite subject so far and although I am struggling here and there as I am completely new to the subject, I am willing to get my head down and work hard to improve.' First Year Media Studies Student.